Marcy Handshaw and Karl Weisenberg 4 Way Test Award

From its inception Rotarians were concerned with promoting high ethical standards in their professional lives. The Four Way Test was created in 1932 by Rotarian Herbert J. Taylor. It was designed to serve as a guide to business interactions. In 1943 it was adopted by Rotary as its guiding principles.

Since 2007 the Innsbrook Rotary Club created and has been presenting the of Marcy Handshaw and Karl Weisenberg 4 Way Test Award to a club member to recognize and honor who best exemplifies the tenets of the 4 Way Test in their personal, civic and professional life.

Marcy and Karl passed away suddenly within a few months of each other. The club created this award in their memory.

Marcy served on the Board of SCAN and was very active in our club. Karl was the lynchpin for our involvement with MedLink which collected used medical equipment which was then shipped to third world countries. He printed our bulletin at a very favorable cost to the club.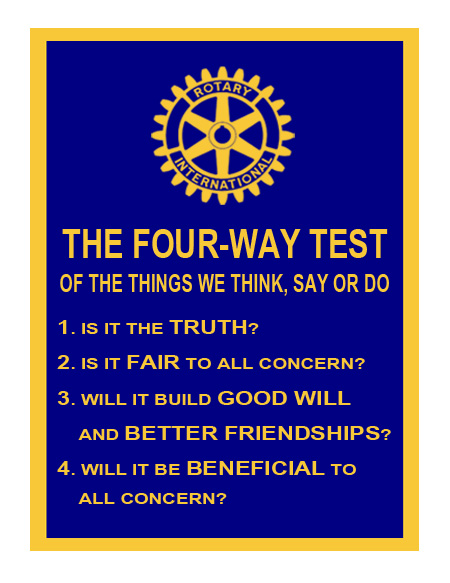 | Rotary Year | Award Recipients |
| --- | --- |
| 2020-21 | John Nelson |
| 2019-20 | Raghavan Sadagopan |
| 2018-19 | Lisa Hollier |
| 2017-18 | Will Saunders |
| 2016-17 | Dan Kern |
| 2015-16 | Jeff Hawkins |
| 2014-15 | Gerard Shaia |
| 2013-14 | Phil Goodhart |
| 2012-13 | Mark Smith |
| 2011-12 | Alan Meekins |
| 2010-11 | Stokes Grymes |
| 2009-10 | Scott White |
| 2008-09 | Sarah Perkins |
| 2007-08 | Charles Moncure |